Simulator Systems
Networking Systems
For additional details and a price quotation, please call Siemens Technical Training Services, your local Siemens distributor or account manager.
PROFIBUS Simulator System 6ZB25200AA00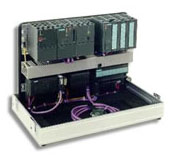 This unit a self contained control system with various PROFIBUS components and connections. Included is a S7315-2DP CPU and power supply connected via PROFIBUS to and ET200B, ET200M, ET200L-SC and to a S7342-5 PROFIBUS interface module. Explore the variety and power of Siemens remote I/O and PROFIBUS networking power with this packaged networking simulator system.
ASI Interface Simulator System 6ZB25200AB00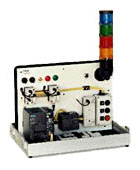 The Actuator Sensor Interface simulator system provides a fully functional variety of field devices including stack light, push button panel and proximity switches which networked through the ASi bus. The ASi bus simulator includes an interface module for PROFIBUS for tying this system to any control system ( S7, S5, 505, other). The unit comes complete with ASi power supply and is ready to plug in and have fun.