Simulator Systems
Machine Tools
For additional details and a price quotation, please call Siemens Technical Training Services, your local Siemens distributor or account manager.
SINUMERIK 840D sl Simulator System 6ZB24100BA00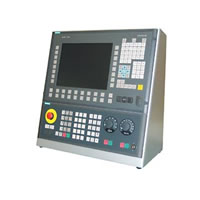 This unit is comprised of two major component parts: The HMI / Operator Interface Unit, and the NCU / Drive Motor Unit. The HMI / Operator unit contains a SINUMERIK OP012 / PCU-50, using the installed Windows NT 4.0 platform and HMI Advanced software. It also contains the SINUMERIK 19" Machine Control Panel, and the Handwheel & Floppy Disk Drive Interface. The NCU / Drive Motor Unit contains all of the SIMODRIVE 611 components, including a 10KW Supply Infeed Module, SINUMERIK 840D NCU 573.4, two SIMODRIVE 611-D Feed Axis Drive motors, and the associated I/O hardware and cabling. This is a fully operational 840D CNC, configured with three axes (one simulated), and a simulated Main Spindle.
SINUMERIK 802D Simulator System 6ZB24100AZ00